"Connecting People to Christ in His Word and Love."
Welcome to Trinity Lutheran School 1200 N 56th Street  Lincoln, NE  68504 | 402-466-1800
---
 Chapel on most Fridays 8:30am in the Gym
---
SIGN UP FOR SUMMER CAMP 2016 – DUE by April 29, 2016
 Click here for Summer Camp Sign Up Online
Click here for a printable copy of the 2016 Trinity Lutheran Summer Camp Application

Enrollment for 2016/2017 is open!

 
---
Click here to view or print the current Choir Schedule
In Other News….
Mr. Bartels is Retiring!
This will be Mr. Bartels final year teaching computer classes at Trinity Lutheran School.  He has been our computer and technology instructor for the past 11 years and he will be greatly missed.
He has asked that we not throw him a party.  If you'd like to send him well wishes, please send a card to the school.
Campbell's Soup Labels and Box Tops
Congratulations to the Third grade class who turned in a total of 5,481 labels for education and are the winner of a pizza, ice cream or popcorn/movie party of their choice.
Preschool was second with a total of 4,224 total labels turned in and Fifth grade was third with a total of 2,721. Thanks to all who participated a grand total of 18,225 Labels for Education, Box Tops and Best Choice labels were collected.  We appreciate all the parents, grandparents and other relatives who supported this program.
Congrats to Mrs. Melissa Green!
Congratulations to TLS Early Childhood Director, Melissa Green.  Mrs. Green was elected to the NE District Administrator's Planning Committee as a Member-at-Large at the Administrator's Conference held this week.
Living Wax Museum
The 4th graders would like to present "Living Wax Museum" on Wednesday, May 4th from 3:15-3:45 in the gym.  The students have been working hard on their biography book report and would like to share this special project with you.  You will "meet" President Obama, Jane Goodall, Davy Crockett and Jim Henson just to name a few. Please take a moment and stop in the gym to see what the 4th graders have been working on.  See you there!
Building With Purpose
Join us for Building With Purpose presentations, activities, snacks
$2 Luncheon tickets now available in the narthex
    Saturday morning, May 7, 2016 - a skit and lunch
8:30 am registration
Trinity Fellowship Hall
Hosted by Trinity Adult and Family Life Ministry - Sponsored by Thrivent Financial Action Team
Upcoming Events
Sat. Apr 30 1-3pm Father/Son Bowling at UNL East Campus
7:00 pm Worship at TLC—no services on Sunday due to the Lincoln Marathon
Mon. May 2 Final Game Club
Tues. May 3 Make & Take—All Grades
Wed. May 4 4th Grade Living Wax Museum 2:45-3:15 pm
Thurs. May 5 Mile Munchers, Chapel—Bruce Wall, Anthem-Love Bugs Cheer Cubs
Fri. May 6 Tiger Girrrlz  and Cheer Cubs Spring Show
---
Support Trinity Lutheran School by shopping with SchoolStore.com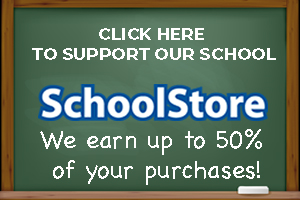 SchoolStore.com is an online shopping mall where over 200 nationally known online merchants have agreed to give a percentage of sales to K-12 schools. Companies like WalMart.com, Sears, Target, DisneyStore.com, Family Book Store, and Oriental Trading Company participate. Most merchant contributions to your school will average 5%-10% but some go as high as 50% of sales!