"Connecting People to Christ in His Word and Love."
Welcome to Trinity Lutheran School
1200 N 56th Street  Lincoln, NE  68504 | 402-466-1800
---
 Chapel on most Fridays 8:30am in the Gym
---
Link to the 2014-2015 School Calendar as Currently Approved by School Board
---
In Other News….
CALL ACCEPTED - We are very happy to announce that Miss Sarah Bundschuh has accepted our call  to serve as our new Third Grade teacher. She writes:    Dear Members of Trinity Lutheran Church & School, After prayerful consideration, I am happy to announce my acceptance of the call to Trinity Lutheran School to serve as third grade teacher. I believe that God wants me to join you in ministry to His children. This will be a great blessing and honor! I am excited to join your church and school family. May God bless our efforts in ministry together!We will welcome Sarah to Trinity on Sunday, August 10th with a card/cake reception and a grocery shower between services.
Remember to check out Trinity Lutheran School's Facebook page!  There are a lot of pictures of NSLW, Daddy/Daughter Dance, Ride the Waves, the snowplow blade painting, the Book Fair, the carnival, the Mother/Daughter Tea, and the 2nd Graders helping out with Operation Christmas Child.
---
Summer Camp is here! The Trinity Lutheran Summer Camp Staff is looking forward to another fun-filled and exciting summer. We are very excited to invite you and your family to be a part of it. Please join us for a SUPERhero Summer! Click the banner below for more info & the registration form!
Summer Camp will began on Wednesday, May 21, 2014. We open at 7:00 a.m. and close at 5:45 p.m. Summer Camp will end Friday, August 8, 2014. We will not have summer camp on Friday, July 4th (4th of July).
---
To order online go to www.gaschoolstore.com
Trinity Online Store # 2503233
---
Support Trinity Lutheran School by shopping with SchoolStore.com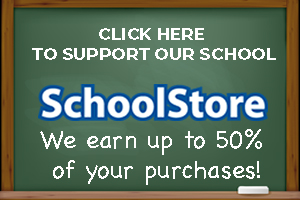 SchoolStore.com is an online shopping mall where over 200 nationally known online merchants have agreed to give a percentage of sales to K-12 schools. Companies like WalMart.com, Sears, Target, DisneyStore.com, Family Book Store, and Oriental Trading Company participate. Most merchant contributions to your school will average 5%-10% but some go as high as 50% of sales!