"Connecting People to Christ in His Word and Love."
Welcome to Trinity Lutheran School
1200 N 56th Street  Lincoln, NE  68504 | 402-466-1800
---
 Chapel on most Fridays 8:30am in the Gym
---
NEW 2015-2016 School Calendar as Approved by School Board (Updated 10-6-2015)
Click here to view or print the current Choir Schedule

In Other News….
We wish everyone a happy and safe Thanksgiving break!
If you have not yet completed the school survey, please do so! We need at least 40% of our families to complete the survey.
Trinity was given two tickets to the Nutcracker Ballet at the Lied Center for the December 19th, 7:00 pm If you would like to go, please submit your name to office by Monday, December 7th and we will draw the winner from the list of names received!
Don't forget to watch KLKN-TV tonight at 10:00 pm and again tomorrow from 5:00-7:00 am and 11:00 am for our Operation Christmas Child story. The print story is already online – check it out here: http://www.klkntv.com/story/30595024/excellence-in-education-operation-christmas-child
Due to the short week, no statements will be coming home today.
Upcoming Events:
Wednesday, Nov. 25th:               No School – Childcare available (must be signed up)
Thursday, Nov. 26th:     No School – No Childcare – Happy Thanksgiving!!
Friday, Nov. 27th:           No School – No Childcare
Monday, Nov. 30th:       Game Club – 3:15-4:00 pm
Tuesday, Dec. 1st:          Make & Take, K-2nd Grade – 3:15-4:15
                                         S.O.S. Night at Panera Bread – 4:00-8:00 pm
Wednesday, Dec. 2nd:  Acts from Above – 3:15-4:00
Thursday, Dec. 3rd:        Mile Munchers – 7:25-8:00 am
                                         Cheer Cubs – 3:15-4:15 pm
Friday, Dec. 4th:              Chapel – 8:35 am; ECE Christmas Program, Choir – 1st/2nd Grade
                                              Tiger Girrrlz – 3:15-4:30 pm
Einstein's Closet – 3:15-4:00 pm
ECE Christmas Program – 6:30 pm in school gym
---
To order online go to www.gaschoolstore.com Trinity Online Store # 2503233
---
Support Trinity Lutheran School by shopping with SchoolStore.com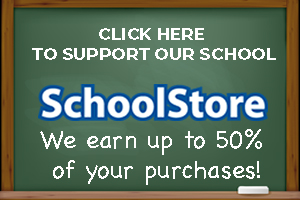 SchoolStore.com is an online shopping mall where over 200 nationally known online merchants have agreed to give a percentage of sales to K-12 schools. Companies like WalMart.com, Sears, Target, DisneyStore.com, Family Book Store, and Oriental Trading Company participate. Most merchant contributions to your school will average 5%-10% but some go as high as 50% of sales!