"Connecting People to Christ in His Word and Love."
Welcome to Trinity Lutheran School
1200 N 56th Street  Lincoln, NE  68504 | 402-466-1800
---
 Chapel on most Fridays 8:30am in the Gym
 Do you have a child that will be ready for Kindergarten this fall?  Let them experience a half day of Kindergarten at our Step Up Day on Wednesday, February 17th from 8:15-11:00 am then the whole family is invited to Kindergarten Round-Up on Friday, February 19th at 6:30 pm.  Come hungry – a meal will be provided!!
---
Click here to view or print the current Choir Schedule

In Other News….
2016/2017 Registration
Registration can be completed online this year:
Click here for ECE Registration.
Click here for K-5 Registration.
Please remember if you choose to register online, you will still need to pay the registration fee in the school office.
Upcoming Non School Days
We have 2 upcoming non school days.  Friday, February 12th and Monday, February 15th.  If you need childcare for either/both of those days, please click here to sign up.  Children must be signed up by Tuesday, February 9th so we can staff accordingly.
Thrivent Choice Dollars
Trinity Lutheran School received $4,496 from the Thrivent Choice Program in 2015. We thank you if you were one of the Thrivent members who designated TLS for your Choice Dollars.If you have a Thrivent product, please consider designating your Choice Dollars for Trinity Lutheran School in 2016.
Scholastic Book Fair
We will be hosting a Scholastic Book Fair during Parent/Teacher Conferences next week.  If you would be willing to help out please let the office know!  We will need help from 3:00 pm– 7:00 pm on Monday, Tuesday, and Friday.  Even if you can only work for an hour, we'd love to have you!!
Upcoming Events
Mon. Feb. 8 Parent/Teacher Conf. Book Fair
Tues. Feb. 9 Make & Take Kdg/1st/2nd Grade, Parent/Teacher Conf.  Book Fair
Wed. Feb. 10 Drama Club
Thurs. Feb. 11 Mile Munchers, Cheer Cubs, Chapel—Pastor Brown, Anthem-God's Little Love Bugs   Parent/Teacher Conf.  Book Fair                         
Fri. Feb. 12/Mon. Feb. 15 No School
Wed. Feb. 17 Spring Pictures, Step Up to Kindergarten - 8:15-11:00 am
Fri. Feb. 19 Kindergarten Round-Up, 6:30 pm
Sun. Feb. 21 Movie Night @ TLS
Click here for the following flyers:
Movie Night Flyer
Lincoln Lutheran Announcements
Parent/Teacher Conference Schedule
---
To order online go to www.gaschoolstore.com Trinity Online Store # 2503233
---
Support Trinity Lutheran School by shopping with SchoolStore.com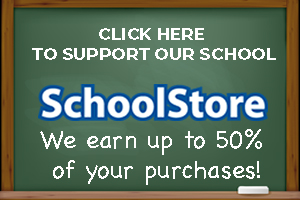 SchoolStore.com is an online shopping mall where over 200 nationally known online merchants have agreed to give a percentage of sales to K-12 schools. Companies like WalMart.com, Sears, Target, DisneyStore.com, Family Book Store, and Oriental Trading Company participate. Most merchant contributions to your school will average 5%-10% but some go as high as 50% of sales!